Hi everybody! How happy to meet you here in another year. Yes, it's already 2023. It's amazing how fast time flies. This sometimes gives the impression that we are not doing much, but calm down. All we don't need is a start to the year full of charges. Thinking about keeping calm, let's crochet a little? Little Angel is here and will help you with this task. Yes, it's an amigurumi. They are so successful and are in great demand by everyone.
From decorating our house, to gifting and selling some pieces. And since we're starting a new year, have you written down the goals and objectives? I like to have everything written down and build on that. Of course we can adapt during the year, we never know what will happen. But what I don't give up is my craft moments. And this is almost around the clock.
After spending the day messing around on the computer, all I need is a little crochet to relax and end the day in peace. Are you like that too? Gives a better feeling, try to do this one day. Now let's talk about the little angel. Have you ever made any amigurumi? They are very cute and are more and more popular among craft items. They decorate all the environments very well. Many people even like to collect too.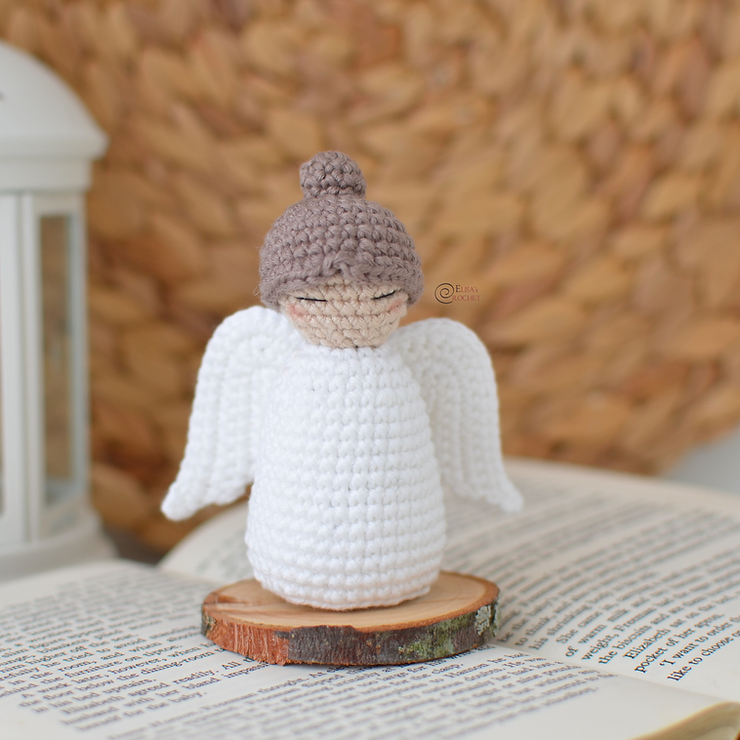 Image / Pattern / Tutorial: Elisa's Crochet
They order special characters, from movies, series, and all that you can do with crochet. They are excellent for those who want to decorate the children's room. Knowing the theme of decoration, you can't go wrong. The little angel is a classic pattern. You can make it for decoration, birthday souvenirs and even christening. I know that the end of the year celebrations are over, but here's a tip for next Christmas.
They are small, delicate and look perfect on the Christmas tree, just add a handle. Amigurumis are usually made with different yarns. You will see that they are thinner and more structured. Nowadays we already find these options in stores, it's quite simple. Before you start crocheting, check out the pattern available at Elisa's Crochet. If you have any doubts or want to tell us what you want to learn, feel free. We really appreciate having your feedback.