Winter has come and it is going and now, so it is time to get ready for summer.
Hey guys, how are you going? Hope it is all fine. Well, we were just talking in our last post about how winter is going away. Indeed, we have spring yet to come, this means that until July we must expect a few colder days to come. But this does not mean we should not be prepared for the summer trandings. That is why, I present to you, today's idea: crochet summer skirts.
In general, we think about crochet as something our nannies and their friends do. Sure, we do have a rug or a pillow, maybe even a bag or accessories. But it is not something we notice frequently in our looks, is it? However, the trend is about to change. With the last fashion weeks around the world, that crochet is conquering more and more space.
As we commented before, this recipe is to get you ready for the summer times ahead of us. You can bet in cheerful colors, bright shades and less neutral tones. Summer is where we can be bold and try pinks, oranges, yellows and bright greens. Fearless, deep dive in these colors.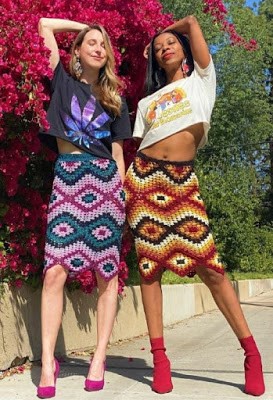 For this suggestion, you will need your chosen hook, scissors and yarns, giving that special attention when opting for the colors.
You can find this recipe at Crafts Loved, with a detailed tutorial to guide you through the production of this piece. Enjoy!