African Square Blanket, an amazing piece made out of beautiful squares that i'm sure you're gonna love. Crochet always helps a lot when decorating the house and even when it's time to warm up, this piece will leave you amazed by its beautiful design. A stylish and romantic blanket for you to wear in your decor and to warm you up. The crochet blanket has been used more and more and is already part of the decoration of many houses today, completing it and giving it an amazing look.
Use your creativity and make beautiful pillows to match the blanket, this will give your decor a complete look filled with amazing pieces that will leave everything with an amazing touch that you will love, you can be sure. With little material and using your knowledge in crochet, following the tutorial carefully, you can make this magnificent blanket that will change the look of your house for real.
If you know someone who is very fond of decorating, can offer this beautiful blanket as a gift, you can use this blanket for sale as it is a product that people are always looking to buy these days for their homes and to keep them warm, which guarantees an immense demand. Thank you for visiting our website. We always try to bring you the best.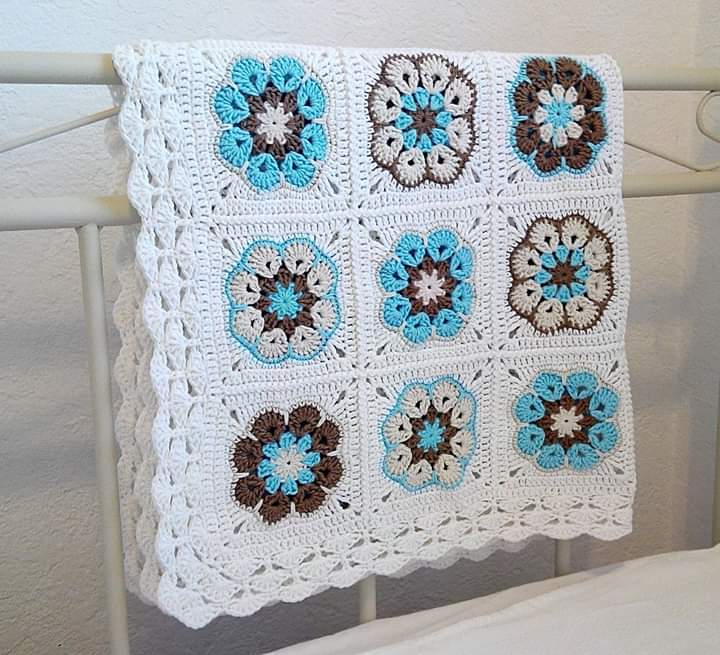 See Also:
➽ Crochet Flower Blanket
➽ Crochet Doily Inspiration
➽ Crochet Doily Interlocking Rug
African Square Blanket
Let's Begin
Material:
Rich Essentials Cotton DK
3.5mm hook. Each square measures 11.5 cm (4.5″)
Note: The size will vary depending on the yarn and hook you use.
Stitch Terms:
chain stitch (ch)
slip stitch (sl st)
single crochet (sc)
half double crochet (hdc)
double crochet (dc)
treble (tr)
spike single crochet (or "long" sc).
1st Rnd: start with a magic ring and work 2dc, ch-1 eight times inside the ring (8dc-2 groups, 16dc's). (Tip: Alternatively you can work dc-2-togs instead of the dc-2 groups)
2nd Rnd: with a new color work 3dc, ch-1 in each ch1-space around (8×3 dc's).
3rd Rnd: with a new color work 2dc, ch-2, 2dc in every ch1-space (8 shells).
4th Rnd: work 7 dc's in every ch2-space around. (56 DC's, in ch-spaces!) (Tip: I like this motif best, when the 3rd and 4th round are worked in the same color).
5th Rnd: with a new color work sc's in every dc around, with spike-sc's between the shells of the 3rd round. (For the spike-sc (or "long" sc), insert your hook into the little space between the shells of round 3, pull up a loop to the height of your current working round, yarn over and pull through the two loops on your hook.)
6th Rnd: We have to square the flower: join your new color with a standing hdc (or ch-2) in any spike-sc. Then Work the next sc, sc's into the next 4 sc's, 1 hdc into the next spike-sc* and repeat around (omitting the last hdc) until the end of the round.
7th Rnd: work dc's in every stitch around, with 2dc, ch-2, 2dc in the corner-spaces of the previous round. Fasten off, weave in the ends, and you're done!!
Our Team's Opinion About This Pattern
African Square Blanket, the piece you needed to change your decor, i'm sure you're gonna be amazed by this piece that'll take your house with an amazing touch, this stylish blanket can change your decor in a stylish way that i I'm sure you'll love it. This is a piece that is always needed, that's why it is so famous. This will surely make your customers want one like it, which will help you in sales!!
Want to make this amazing African Square Blanket? Then set aside all your material and tools before starting your piece so that you already have everything close at hand, this way it'll be easy to carry out this project, follow the tutorial carefully, make your piece while following the tutorial and I' m sure that you will be able to make this amazing work easily.