Hi everyone, nice to see you again. We didn't show up for a few days to share new patterns or chat with you. We missed you. Tell me how these days were. Were you able to keep practicing, did you finish any special projects? Around here we managed to put a lot of things in order and now we want to show you the news.
You are used to seeing quilt models around here. They are always a big hit with beginners and experts alike and can be an excellent source of income if that's what you're looking for. Tulip Tiles Throw is another amazing model. With very vibrant colors, this quilt will steal attention from the room and add a fun touch to the decor.
I bet if they told you that a blue and yellow quilt looked so harmonious, you wouldn't believe it. But in tulip tiles throw, the shades of blue, together with the cutouts and seams and the yellow, make up an incredible piece.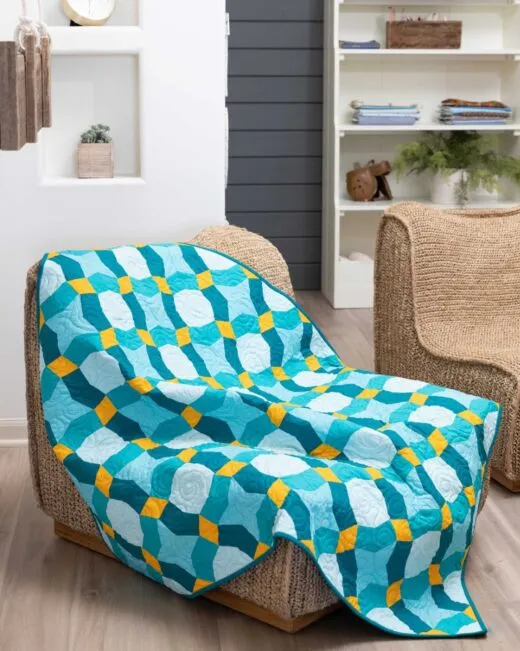 Image / Pattern / Tutorial: AccuQuilt
Quilts have many uses and are therefore constantly being renewed. Either because you want to change the decoration of the environment, add a touch of color, cover a stain or tear in the sofa, or decorate an armchair. The quilt can be present on all these occasions. And when we do it ourselves, the cost is reduced. There is no one who does not like a good economy.
In addition to having a beautiful hobby, therapy moments for you to relax and enjoy while sewing. The colors here are completely optional, but I think you should give these shades a chance. With the quilts you can also present your loved ones, show all your affection for them.
Choosing quality materials, paying attention to the pattern and each instruction, I'm sure there won't be any mistakes. If you have any doubts when doing the tulip tiles throw, come and talk to us here in the comments. Our community is with open arms to exchange tips and experiences with you. Come on, let's quilt!