Hi my loves! Another week we spent together and we had a lot of beautiful models to learn. We are very happy to have your company. Know that you can always look for us when you want to learn new crafts. Didn't find what you wanted? Want a different cardigan to crochet over the weekend? Then your day has come. For today we separate The Rose Cardigan.
Look what a beautiful and delicate thing. This cardigan is perfect, with a super romantic look, the roses are the highlight of the piece. It's that outfit that transforms a basic look into incredible, in no time. You can be in a basic blouse and jeans, just put on the cardigan and you're good to go. There are a lot of details and a very cool texture, which make the cardigan unique. It is made with the famous granny squares.
You can see in the photo that each rose has a border and, after crocheting the necessary amount, we join them all together and make the finishes. It's not a basic cardigan, it's really heavy, it's not that thin piece. A lot of this is because of the roses, there are several layers that give this aspect. When choosing yarn, feel the yarn texture, see if it is comfortable to the touch. This is important for having a comfortable cardigan.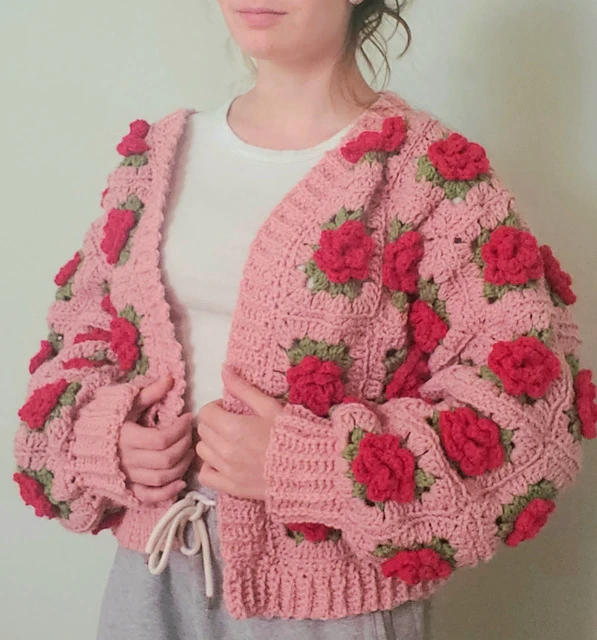 Image / Pattern / Tutorial: Ravelry
Some details, like the leaves, are small and can be made with yarn left over from other patterns. But the colors can vary according to your taste. If you're thinking of making a bolder, more dramatic cardigan, you can use black yarn. It will give even more prominence to the roses, it will be a knockout. Shall we crochet? Before anything else, read the pattern a first time.
Then think about the materials you will need to buy. Is it all there? How about testing a rose first? You can rescue a yarn you have around. Make a rose and see how it will look. Didn't like it? Disassemble and try again. The important thing is not to give up. And if after seeing the rose cardigan pattern available on Ravelry you still have any doubts, let us know in the comments. We are anxious to know what you think. Let's crochet!