Are you looking for an option to light up your table? Check out these sunflower coasters. Sunflowers are naturally a portrait of summer and warmer, happier times. Serving a table with this accessory is to receive with animation and a good mood. We are going through winter, and soon summer arrives, bringing sunny and lively days. The sunflower is the best symbol to represent this period.
Coasters are the best way to prevent sweaty cups, jugs and bottles from permanently staining our furniture. They also serve as accessories to set up a table. That doesn't mean they need to be treated as supporting accessories, with the right composition, they can be the highlights.
This sunflower coaster is a beautiful option to brighten up a meal and make the experience of being with friends and family even more loving. It's also a great gift option for housewarming and for sale – who doesn't need a coaster these days, let alone original coasters like this model?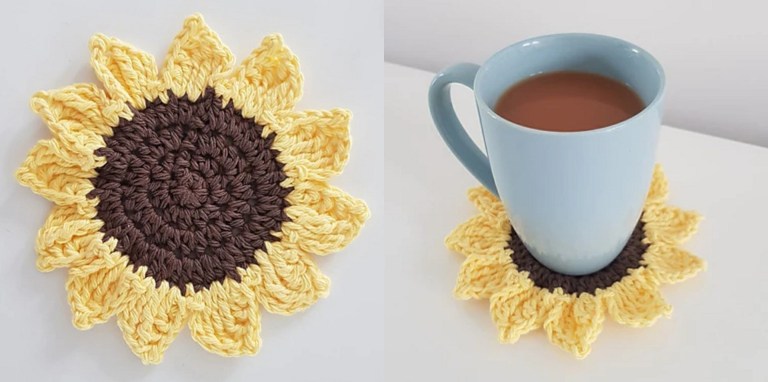 Materials you will need:
Around 11 grams of brown yarn
Around 15 grams of yellow yarn
4,5mm hook – if you have tight stitches, in case you have more loose stitches, you may want to consider a smaller hook.
You can check the detailed, step by step, full tutorial in XellCrafts.
What do you think about this idea? Did you like it? If you want me to bring more ideas like this let me know, I will be happy to bring patterns that bright up your homes.