Hello friends of our website, today I bring a pattern of fruit that we do not have on our site. Have you seen how super cute 'Strawberry Crochet Stitch? What a unique look and texture it has. We always like to bring different innovations and patterns so that you can increase your list of designs and patterns that you know how to do, and also improve your crochet skills so you can crochet on a more difficult level. Soon you will see that, in a short time, you will become a professional craftsman and able to create any project.
It's also known to look like a hard work, but the good news is that it's easy when you know how to start the creation. We've included a video tutorial in our post that will help you learn this crochet stitch to perfection. Make sure that in a few minutes you will learn and you will no longer have doubts about that point.
It is very similar to the popular Bobble Crochet Stitch and will be perfect for all kinds of designs. You can make blankets and cushions, and it looks very yummy in pink yarn as well.
This strawberry crochet point looks very beautiful because the strawberries are made interspersed and are not stacked on top of each other, thus giving to see the work better. Together with the video tutorial of this strawberry point (which is very beautiful), we will teach a technique that can be used in several other points, thus creating numerous forms of creation, with a greater diversity and can be used in various types of crochet work , just use your creativity and watch the video.
The video is full of lots of information and will certainly be able to create this new pattern easily because it's a simple point to make. To start, it is necessary to use two colors to make this project: lines with red tones that appear to be very similar to the strawberry color and green line that looks like the color of the leaves. With the right colors already chosen, your work will be even more natural and will become much more real and original. You will find the details and the video below in our page. Roll our post to the end and do not miss a single idea.
Strawberry Crochet stitch a wonderful spot, really gives us the impression of a lot of beautiful and delicate strawberries. They are used for napkin bar, table top, centerpiece, kitchen garnish and wherever you prefer to put it, just use your imagination and do it where you want. Enjoy the video tutorial below.
Help Tip: How to Make Crochet Strawberry Stitch
Skill Level: Medium SIZE FINISHED 9 inches in diameter MATERIALS Balinese Co4on Yarns (thin / sporty) weight yarns (100g per ball), can be replaced with mercerized co4on Green: 1 ball Red: 1 ball Size F / 2.5 mm crochet or size needed to obtain GAUGE wire needle 7 scs = 1 inch.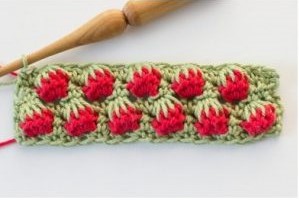 Follow our page on facebook
Crochet and Knit Free Patterns
, and our
Crochet & Knitting Group
. We give weekly tips with Free pattern. I'll see you there. To know more follow us on
Pinterest
. I found this promotion on Amazon and it's perfect:
Stitch Strawberry Yarn