Hello friends of our site, today I have a different pattern for you that I have not put any material here on crochet bugs. Today is about a crochet snail, great for nursery and even nursery trimmings use to decorate baby's tea and child's birthday party leaving more fluffy and decorated.
These curves are so delicate that you can not not love. Time revolves around you, bringing the echoes and vibrations as the living ways of the spiral pass close to each other. The starting point is also the point of arrival to bring us the question of return always to rediscover and renew … "If you do not like them in your garden, you will not want as a noble detail in your room or even for decorations.
A wonderful piece and you can also change the colors according to your taste with whatever you prefer or was the decoration.I hope you enjoy since different standard that brought today to our site.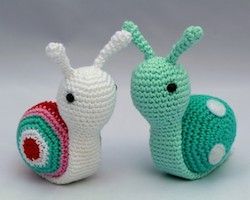 Below I leave the step by step and if you have any questions, please follow the video tutorial we left shortly after.