Hello my loves! We finished another week and we hope to find you all well. Did you manage to complete any projects this week? Here we tested another beautiful blanket and we want to share it with you. The Penguin Crochet Blanket is another amazing project that you will do with crochet. This technique is incredible, cheap and allows us to do the most varied projects. 
One more amazing pattern with the other and basically made with two materials, crochet hook and yarns. Blankets are often the entry point into crochet art. As they are simple stitches, they are easier to learn and repeat several times until the desired size. In addition to being cheap, when we use quality materials, crochet pieces last for a long time. 
Who doesn't have a little outfit, a baby shoe kept until today? I have a set and a blanket that my mother crocheted for me while I was pregnant, and they are still intact here with me. That's why yarn choice is important. She will also dictate the choice of crochet hook. But the basic rule is thick yarns, bigger needles, thinner yarns, smaller needles. To make the penguin crochet blanket you will need some yarn colors.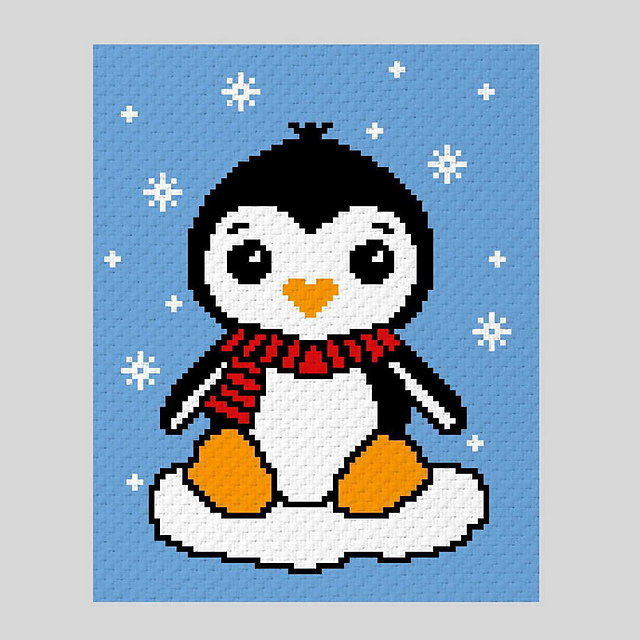 Image / Pattern / Tutorial: Ravelry
The important thing is to keep a similar thickness between them so the design is the same as the rest of the blanket, and have the same yield. So one part is not thicker than the other. You can see that the contrast between the colors is very present and that's why the penguin is so prominent. You can choose other colors, but be careful to have a similar result. The penguin crochet blanket pattern is available on Ravelry. 
If you've never crocheted, this pattern may not be right for you. Swapping yarns is one of the things that can make the project difficult. But always read the pattern, sometimes you have an easier time learning different stitches and can easily learn one more pattern. In addition, you can always get tips that can be useful whenever you crochet. Ready to make this blanket so beautiful? Let's crochet!