Hi everybody! Good to start another week with you. How spent the weekend? I know we've brought a lot of beautiful things in the last week. I hope you are enjoying it and taking advantage of whenever you have time to relax doing crafts. Shall we crochet? The Kaleidoscope Cardigan is here to show you another beautiful idea that you can do in the comfort of your home. A colorful cardigan, similar to the well-known granny squares. 
It would be a big square on the back. For the rest you will make smaller squares. All made in crochet, much of the highlight of this cardigan is due to the colors chosen. The black yarn highlights and enhances the colors of the rest of the coat even more. It's like the background to highlight the other colors and the result is incredible. When we talk about cardigan, as much as it is a coat, it is more for mild days. 
It is not very used on very cold days because it does not fulfill the purpose of a heavier coat. Take this into account when choosing which yarn you want to work with. Thicker yarns are heavier, giving a different result. For this pattern, try to find a middle ground. We don't want very thick yarns, but we can't use very thin ones, otherwise your cardigan won't have any structure. In the pattern you find the yarn that was used. Take this as a suggestion, it will help you when choosing.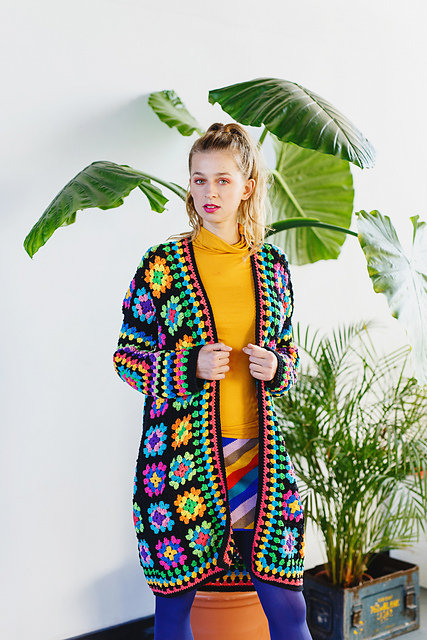 Image / Pattern / Tutorial: Ravelry
Then just see the crochet hook indicated for this yarn and start crocheting. When we talk about clothes, sizes are much more important than when we crochet a rug for example. But crocheting allows us to change sizes, almost always, in a simple way. We usually increase or decrease the number of rounds. That's simple. To make the colored parts of the cardigan, why not use leftover yarns? 
This is the premise of granny squares, taking advantage of yarns and giving them a new end. We always try to buy only what is necessary, but sometimes there is some material left over. Check out the kaleidoscope cardigan pattern on Ravelry. And tell us what you think, if you plan to make it to sell or for yourself. Use your creativity and make your combinations. This cardigan is going to be a hit.