Hello my loves! What a pleasure to start this week with you. We are already here, with beautiful separate patterns, ready to share everything with you. You know that pattern you really want to learn, but haven't shown up here yet? Ask us in the comments. We will be very happy to help you. But today, the Granny Square Cardigan is the piece of the moment. 
This beautiful model shows us that, even though it is an old and classic piece, with granny squares we can make modern clothes too. The crochet cardigan is a piece that cannot be missed as an option in women's closets and closets. Despite being a piece more used in the cold, crochet allows a more open weave for the hottest days. There are so many different models that it is impossible not to find a perfect cardigan for your casual look or your social outfit.
This item is extremely versatile and crochet only enhances this feature, allowing many different plots and textures. The granny square cardigan has a funky style. It is a colorful, light and loose model. Take the opportunity to explore the granny squares designs to customize the piece. You can make it very colorful, using vibrant colors, or more pastel tones.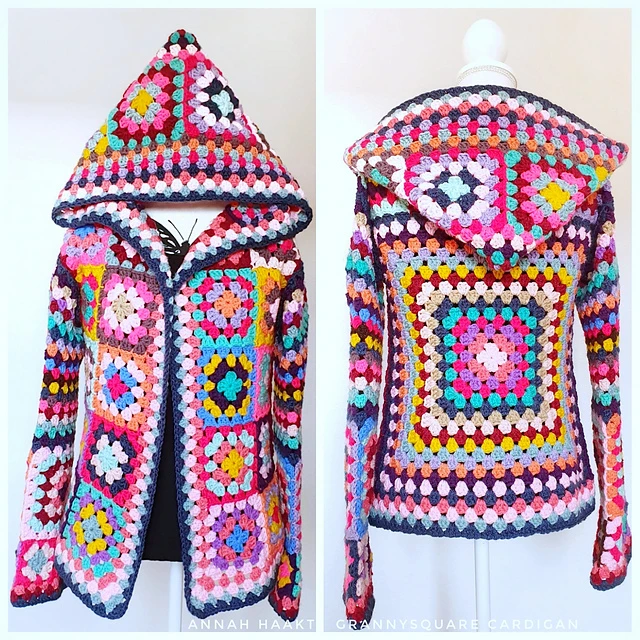 Image / Pattern / Tutorial: Ravelry
You can also choose just a few colors, two, three, and make a more discreet cardigan. Take advantage of the fact that the crochet does not require a lot of materials and crochet the cardigans. Now that we're approaching the end of the year, the time for people to gift themselves, why not gift your friends with an item you've made yourself? It can be a great way to start selling your crochet. One talks to the other, praises their work and soon, orders will appear. 
And make one for yourself too, after all, we crochet, but you also deserve a wonderful piece like this. Come check out the granny square cardigan pattern that is available on Ravelry. Read through it all the first time and only then buy the materials and start crocheting. Did you like it? Tell us here in the comments. And you can send a photo of what you crocheted following the patterns we share here. We will be very happy to see the results. Let's crochet!