Good evening my crocheter friends, ready for one more week to begin? Or are you still in a weekend mood? However may be the answer, I hope crocheting is in your plans, anyways. This suggestion is both cute and practical, a combination we love, is it not? I was looking for baby clothing options and I found this baby girl dress, that is a good item for summer and lovely.
I must say, not only is this dress a beauty, its tutorial is also a complete one. You can find instructions to create the same dress for different ages, between three to twenty-four months old. The stitches are very specified and the step-by-step is clear. All that, allows creating this sweet item even easier.
This is an item for baby girls to use and look even cuter. So, color choosing here is very important. If you pick delicate, pastel shades, you can work with practically any color that may seem fit, except maybe black, gray and red. You can even go for wools that have many colors blended within it.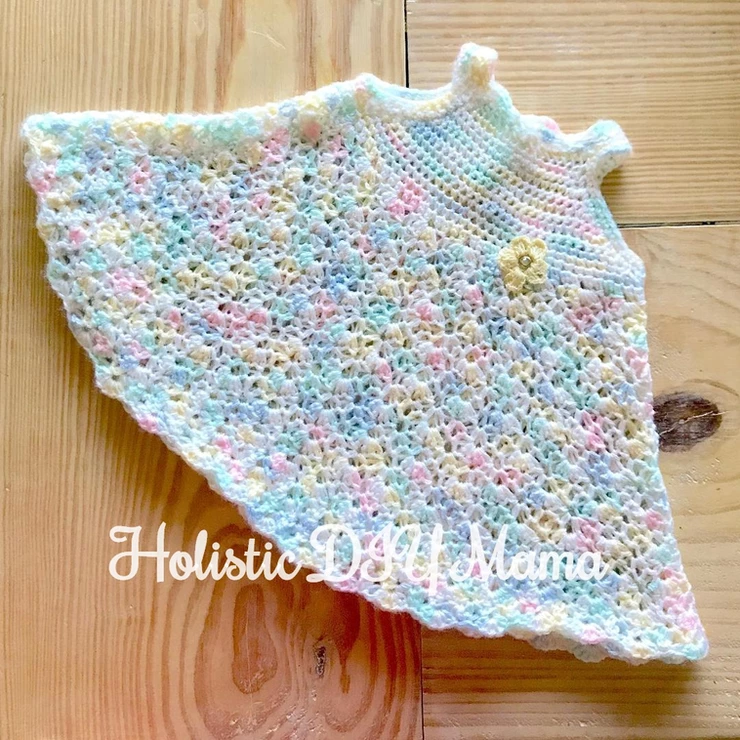 This is an intermediate pattern. For it, you will need:
Your regular hook;
A pair of scissors;
A sewing needle;
Two buttons;
Your chosen wool (be careful when buying, go for the ones from the baby lines, fluffier and softer).
Hope you guys find time this week to practice this beauty. Let me know how it goes. Here at Holistic DIY Mama you will find the complete and detailed tutorial, as said above, enjoy it.