Hello my dears, how are you going? Are you enjoying your weekend? I hope so, I have been enjoying mine so far. But, I am always paying attention to new crochet items I can bring to you here. And I have found one that I think you are going to like. It is fitting with the upcoming Summer, charming and a good sellable item.
Here, I present to you this crochet beach bag. It is a relatively easy pattern to reproduce, however, it is necessary a little bit of practice and developed skills. Also, this bag has a nice, wavy pattern and to get this effect I recommend you to use different colors so we can see it.
In this recipe, they decided to go for the American flag colors, red, blue and white, as an item to celebrate the fourth of July holiday. I understand that these colors may narrow the sales and gifting, for that you can risk yourself into the Summer colors, such as pink, yellow and orange, they are perfect to fit into a beachy scenery.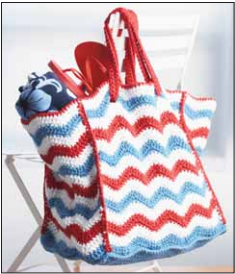 With this recipe you will get a 15 inches wide per 8 inches deep and 16 inches high. You need to get a 5mm hook, the pair of scissors you are used to and the yarn you have chosen. It is good to remember that this bag will get sand and other dirts, so choose a washable yarn.
Did you like this idea? At Yarnspiration you get a free PDF tutorial, very detailed, that is going to guide you stitch by stitch. Would you like me to bring more Summer ideas? Let me know in the comments. For now, have a great night, see you later!!