Hi my loves! Another week starting and we are very happy to have you here with us. Have you started to see shades of red and green everywhere? A sign that one of the most awaited dates is coming. And we can't be late, let's start by learning Christmas Wall Hanging. It's not just now that knitting has become a big trend. This artisanal and completely manual technique.
It can be seen for many years as part of the decoration of a home, and is also considered a therapeutic activity by those who perform this work that requires skill and patience. Passed from generation to generation, knitting never goes out of fashion because it is timeless, and also because it is easy to adapt it to the current one. If used creatively, it can warm up in winter, add color and texture to environments, add a personal touch to the contemporary, be part of a more minimalist choice or renew the energy and look of boring furniture.
On thematic dates he could not be left out. Christmas is a very special date, in which we try to thank all that we have conquered during the year, together with our family. For a date like this, you can't leave your home without a beautiful decoration. And nothing more propitious than joining our art with the decoration of the house. With this wall hanging, you can decorate different environments, give a discreet touch and complement the decor.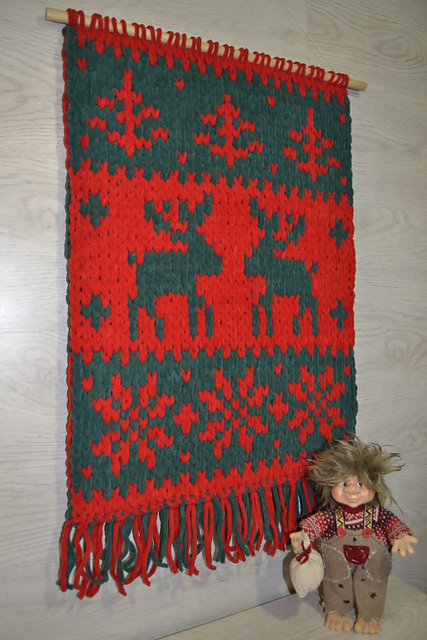 Image / Pattern / Tutorial: Ravelry
The colors chosen in the pattern are discreet, no vibrant green or red was used. At Christmas, we always keep this color palette, red, green, gold. Regardless of the colors chosen, keep the contrast between them to highlight the design that is being formed. Following the step-by-step guide, available on Ravelry, in the end you will have a piece measuring approximately 17.7″ x 25.2″ (45 cm x 64 cm), excluding fringe.
The fringe is a detail that you may or may not put on. In addition to the materials that we are used to using, knitting needles and yarn, you will need a support. It is similar to a broom handle, to hold the piece and secure it to the wall. Find a wall that fits the christmas wall hanging and let's knit!