Hey loves! Shall we start this week excited? We are very happy to have you here with us. It's really nice to know that you count on us to learn new patterns and get inspired by what we share with you. Today couldn't be different, another beautiful crochet pattern. The Chains Winter Scarf is this beautiful model that you are seeing in the photos. In addition to being amazing and with very beautiful colors, you can use it on both sides. 
Impossible not to love the crochet scarf! Everyone has at least one in their closet and usually remembers it on those colder days. But did you know that he is a super fashion accessory, which can make you much more stylish? In addition to warming the body, it gives an extra charm to the look. You can match any look and stay warm in winter with versatility and style. 
You can crochet the scarf very easily at home and it's an amazing way to gift a friend or relative. Keeping warm in winter is essential. And with the crochet scarf, you will get wonderful and stylish looks. It doesn't hurt to remember that crochet scarves are not all the same. First of all, there is a huge variety of colors to choose from, ranging from models with solid colors to those that bet on blending and gradient tones.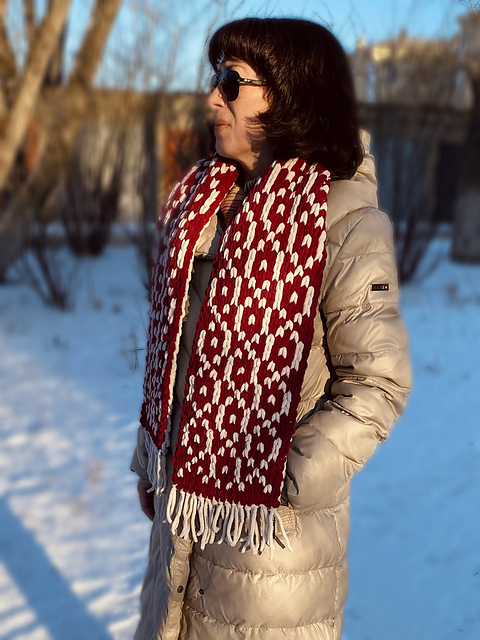 Image / Pattern / Tutorial: Ravelry
There are several ways to wear the scarf and, believe me, it goes far beyond the traditional method of just wrapping the piece around your neck. When using a scarf, you can tie your hair up to make it more elegant and highlight the piece. For a wider scarf, you can choose to just throw it in the back leaving the ends hanging in the front. Another idea is to pass the scarf around your neck and tie a knot at the ends, as if the piece were a tie. 
Anyway, test the ways to use and see what seems most comfortable to you. This pattern is perfect for the upcoming date, Christmas. In addition to the cold, you can gift friends who love to look even more elegant these days. Come check out the Chains Winter Scarf pattern on Ravelry. Don't forget to come back and tell us what you think. We are very happy to share our experiences with you. Now, it's time to crochet!