Hey sweeties! Good to meet you here. We are very happy to have your company and motivated to continue learning and bringing you new patterns. What are the projects you have done? Are you preferring to crochet, quilt, knit? There are many beautiful techniques that we can do at home and earn extra money at the end of the month. Today we are going to learn how to make an amazing dress, the Bright Summer Irish Crochet Lace Pattern.
Look what an amazing dress, colorful and with a more charming detail than the other. To crochet this dress you will make diferent flowers and then joined together with crochet stitches. Classic clothing models are always being reinvented. In a scenario where satin, silk and mesh dresses become common, crochet dresses arrive to impress with their own style.
The possibilities with crochet dresses are many. We can use them for a night out at a sophisticated event, and as clothes to enjoy a well-dressed beach. The crochet dress is perfect to give a different look, being an alternative to the most common models. This model is perfect for cooler days, it is a looser and more open dress, beautiful to wear in the late afternoon.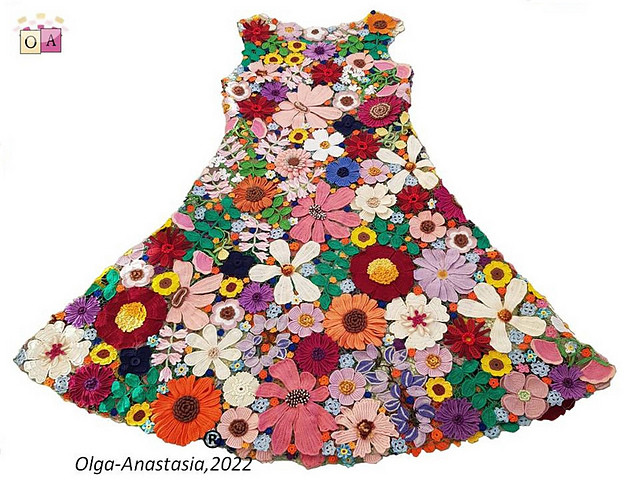 Image / Pattern / Tutorial: Ravelry
To make this pattern, highlighting all the flowers, you will need yarns of many colors and you can even reuse yarns left over from other projects. Just be careful not to mix yarns of very different thicknesses. You will see that it will look very different, the flowers will not match as well as the dress you are seeing in the pictures. Longer Yarns also take a little longer for you to see the result. It's normal, it seems that you crochet and don't see much result.
Especially those who are used to crocheting with thicker yarns. But calm down, one flower at a time and, in the end, you will have an amazing dress. Shall we crochet? You can find Bright Summer Irish Crochet Lace in Ravelry. Read the pattern, choose and separate the materials and let's start crocheting. Then come tell us what you think here in the comments, we are looking forward to seeing many beautiful dresses out there.