Crochet has grown more and more in the world of crafts, sought after by people for a hobby, sales for people who have crochet as a source of income and also for people who have depression, lack of courage, surveys prove that doing crafts does well for mind, motor racing and concentration being an excellent therapy. Doing something with your own hands is very rewarding and a way of expressing yourself, having only positive effects.
Crochet can be used for decoration and as Christmas is coming up nothing better than making your own decoration done by your hands, and every detail makes a difference. This pattern is of crochet angel being able to decorate your house at Christmas putting in the tree, fireplace, at your table, in the stairs, in the gift at last where you want to put.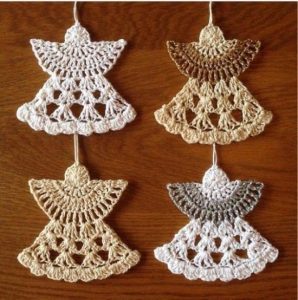 There are several types of patterns of crochet angels, this is just a way of doing but if you prefer you can change the point of the lower body of the angel or change the color of the angel, you can put beads or glitter to color or give a touch especially with tapes interlaced or that you want to put to add to your project.
Below is a template of how you will stay in the end result and the chart to follow with the point counts and the point types used. In the video tutorial you have the step by step that is easier and practical to understand, being able to pause and go back where you have questions and do everything correctly.